Wellness Yoga Retreat in Rishikesh
Our 1 Week Wellness Retreat in Rishikesh is focused on managing stress, mental health conditions such as anxiety and depression existing with chronic physical illnesses. This program has been described as a 'life transformative experience' by participants. Program covers Pranayam, Meditation, selected Asanas, Herbal Detox, Naad Healing (Sound Therapy) and Counselling based on wisdom gleaned from the Bhagwat Gita and Upanishads. Instruction is personalised based on individual's needs and ailments.
Some of the Meditation and Pranayam techniques covered in this retreat are:
NadiShodhan, Bhastrika, Kapalbhati, Bhramari, Shanmukhi Mudra, Onkar Kriya, Naad healing, Mantra Meditation and Yog Nidra in addition a set of selected asanas. Daily Herbal Detox is prepared using traditional medicinal herbs. Daily nature walks along the Ma Ganga serves as an added intervention to gain calmness of the mind and fight stress, anxiety and depression.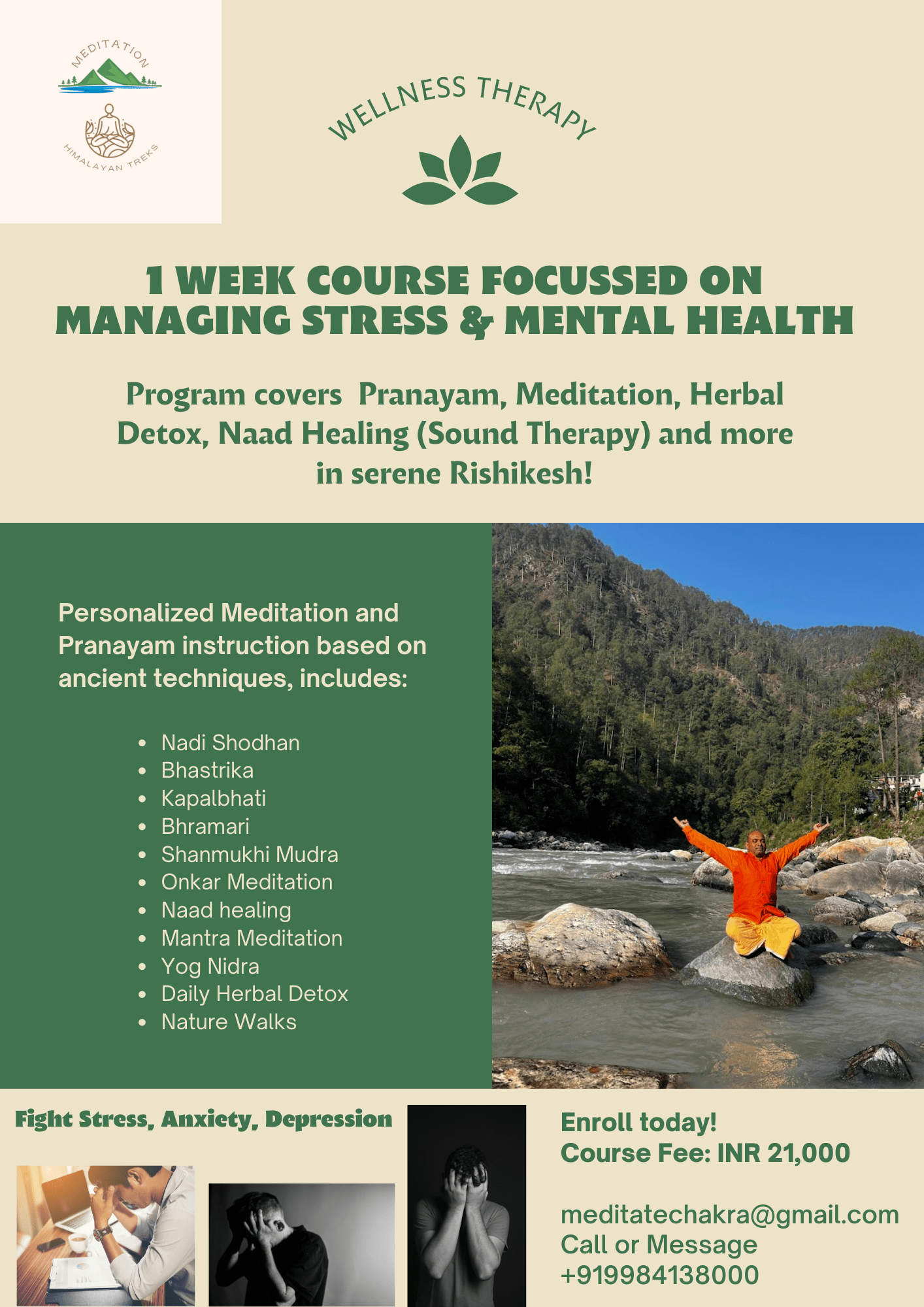 Our Class Schedule We Making Scdedule Perfectly
Schedule
| Course Name | Course Date | Availability | Course Fees | Booking |
| --- | --- | --- | --- | --- |
| Wellness Yoga Retreat | 01 Oct - 10 Oct | 10 Seats | 21000 INR | Enroll Now |
| Wellness Yoga Retreat | 01 Oct - 10 Oct | 10 Seats | 21000 INR | Enroll Now |
| Wellness Yoga Retreat | 01 Oct - 10 Oct | 10 Seats | 21000INR | Enroll Now |
| Wellness Yoga Retreat | 01 Oct - 10 Oct | 10 Seats | 21000 INR | Enroll Now |
| Wellness Yoga Retreats | 01 Oct - 10 Oct | 10 Seats | 21000 INR | Enroll Now |
| Wellness Yoga Retreat | 01 Oct - 10 Oct | 10 Seats | 21000 INR | Enroll Now |
| Wellness Yoga Retreat | 01 Oct - 10 Oct | 10 Seats | 21000 INR | Enroll Now |