Yoga For High Blood Pressure
High Blood Pressure is a chronic illness, also called hypertension, which needs to be managed through lifestyle changes. The long-term pressure of blood on the arteries, can damage the circulatory system if not managed in time. Yoga and meditation can also help, if done the right way. You can now avail yourself of this natural approach, that includes: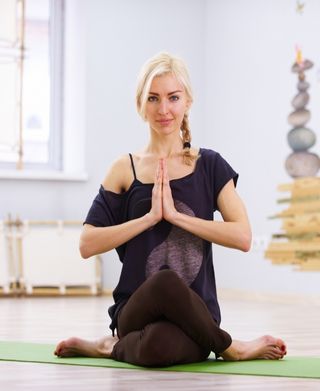 Yogasana:
Here are a few benefits that you should know about in detail.
Any kind of physical activity has the power to manage high blood pressure.
The asanas rejuvenate the heart's muscles.
Asanas improve blood supply to the heart.
Asanas also have a positive impact on the mind in general, which leads to less anxiety.
Some of the recommended asanas for high BP are:
Shavasana
Gomukhasana
Ardha-Matsyendrasana
Pranayam:
Also termed as yogic breathing, it concerns the breath control. Pranayama can control blood pressure by relieving stress.
It also enhances the functioning of the main pumping organ, the heart.

Some of the pranayama techniques are:

Nadishodhan, Shitkari and Shitali Pranayama. All these should be practised without retention of breath (Kumbhaka).
Aum Meditation:
Aum chanting and meditation go hand in hand. It creates vibrations that are in unison with positive energies. This meditative technique can lower blood pressure and also reduce dependence on medicines. Relaxation modalities open the heart vessels by formation of certain compounds, that lower high blood pressure. Transcendental meditation and mindfulness-based have clinically proven effective in numerous cases.
Yoga is a healthy addition to any kind of pharmacological treatment plan.
Our Class Schedule We Making Scdedule Perfectly
Schedule
| Course Name | Course Date | Availability | Course Fees | Booking |
| --- | --- | --- | --- | --- |
| Online Kundalini Yoga Class | 01 Oct - 10 Oct | 10 Seats | USD | Enroll Now |
| Online Kundalini Yoga Class | 01 Oct - 10 Oct | 10 Seats | USD | Enroll Now |
| Online Kundalini Yoga Class | 01 Oct - 10 Oct | 10 Seats | USD | Enroll Now |
| Online Kundalini Yoga Class | 01 Oct - 10 Oct | 10 Seats | USD | Enroll Now |
| Online Kundalini Yoga Class | 01 Oct - 10 Oct | 10 Seats | USD | Enroll Now |
| Online Kundalini Yoga Class | 01 Oct - 10 Oct | 10 Seats | USD | Enroll Now |
| Online Kundalini Yoga Class | 01 Oct - 10 Oct | 10 Seats | USD | Enroll Now |